Song of the Day: XTC – Mayor of Simpleton (April 23, 2021)
This is only the second time that XTC has appeared in Songs of the Day (the other being when I presented the sublime We're All Light ):
…which doesn't seem right, given the high esteem with which I (and, dare I say it, right-thinking pop music aficionados everywhere) regard them. After all, I tended to agree with band leader Andy Partridge when he impressed me with the statement that "there aren't many groups who get better and better with every album, and I like to think we're the other one". So, long overdue, here's another delightful one from Partridge, which appeared on the 1989 album Oranges and Lemons.
The title itself is such a quintessentially English play on words, and the lyrics comprise a long series of clever, funny, and genuinely heart-warming rhyming couplets, as the narrator admits he's not the sharpest knife in the drawer, but argues that his heart is full of love, and doesn't that matter just as much? Like:
Well I don't know how to tell the weight of the sun
and of Mathematics well I want none
and:
I can't have been there when brains were handed round
or get past the cover of your books profound
and:
Well I don't know how many pounds make up a ton
of all the Nobel Prizes that I've never won
before making his pitch:
and I may be the Mayor of Simpleton
But I know one thing and that's I love you
When all logic grows cold and all thinking gets done,
You'll be warm in the arms of the Mayor of Simpleton
…all wrapped in clever melody while bouncing along at a brisk, happy pace. It's wonderful.
The song is particularly noteworthy for the agile, melodically contrapuntal, thoroughly McCartneyesque bass line provided by Colin Moulding (who himself wrote some gems I'll have to discuss at some point), and features a chord progression that Partridge thought sounded a bit like Blue Oyster Cult's Don't Fear the Reaper, which probably makes sense to musicians and other songwriters, but is nothing the average listener would ever notice. Said Partridge of Moulding's contribution:
Colin had to work very hard to get that bass line. It's very precise. It took me a long time to work it out, because I wanted to get into the J.S. Bach mode of each note being the perfect counterpoint to where the chords are and where the melody is. The bass is the third part in the puzzle.*
By now you'll have guessed one of his primary musical influences, besides Bach.
Strange to think that XTC, whose nuanced and highly polished songcraft involved a conscious effort to revive the glories of Sixties pop, started out as a rather noisy post-punk outfit that some thought would be carrying the torch passed by the likes of the Sex Pistols. Some of their early records are pretty loud and fierce. It wasn't long, though, before they switched to a much more accessible style of writing, with Moulding and Partridge both supplying songs that would sit well in mix tapes amid those by the Beatles, the Kinks and the Who. Conventional wisdom has it that of the two, Moulding was the more melodic, while Partridge was more hard-edged and lyrically sophisticated, though really these generalizations don't work any better for them than they do for Lennon and McCartney.
A distinctive feature of a number of Partridge's pieces is a sound pulled straight from the modalities of Medieval music (listen to the verses of Senses Working Overtime), and Indian influence is also sometimes discernible (as in Beating of Hearts, and Green Man). The pulling of all these threads together very often resulted in exhilarating, thoughtful stuff, full of social commentary and keen observation of the human condition in all its foibles and cruelties. There were songs about the vain and pointless acquisition of status symbols like expensive cars, about being bullied in school, about the predatory excesses of religious fundamentalism, about mindless warfare, the tragedies of the distant past, even cosmology – and so much more. Making Plans for Nigel concerned a mentally disturbed kid, Towers of London was a tribute to all the nameless workers who died constructing the landmarks of the great city, All You Pretty Girls was a rousing sea shanty (!), Earn Enough for Us was about the stress of never quite making a decent wage, Love on a Farm Boy's Wages was the lament of a downtrodden rural labourer wondering how he can possibly afford to get married and support a wife, and Ball and Chain, amazingly, was about urban planning and the lamentably ruthless destruction of people's houses and grand old buildings to make way for towers of steel and glass. That's just scratching the surface! It was quite the banquet they laid out from the late Seventies on to the last year of the 20th Century, when they bowed out with the terrific two part collection Apple Venus/Wasp Star. They never sold a ton of records, but they moved enough product to keep their recording contract, and what a body of work they have now to look back upon. If you want music that's terrifically enjoyable, and composed on the assumption that its listeners are intelligent and sufficiently learned to grasp all the allusions and nuances, look no further.
*Sorry to be tedious on this score, but what Partridge describes is something McCartney would have done off the top of his head.
Song of the Day: Donovan – Catch the Wind (April 25, 2021)
Donovan Leitch was playing folk music in his native Scotland before anybody on his side of the pond had ever heard of Bob Dylan, from since he was a 14 year old adolescent at the end of the 1950s, but it was to Dylan that he'd always be compared, sometimes dismissively, sometimes as a presumed imitator. Back in the day they were supposed to have been rivals, and Donavan appears as such in the film Don't Look Back, a documentary of Dylan's 1965 tour of Britain. It wasn't really true. By then, Donovan was already appealing to a somewhat different set of listeners, and emerging as a star in his own right, helped, like so many contemporary UK acts, by appearances on the legendary British TV series Ready Steady Go.
Catch the Wind was released in 1965, and he went on to bigger hits with Sunshine Superman and Mellow Yellow in 1966. There were other successes after that, including one called Epistle to Dippy (the titular "Dippy" was a soldier in the British Army, not sure how the singer knew him), the pleasantly light-hearted There is a Mountain, and then the anthemic Atlantis, which was released at the end of 1968 and featured the sort of marathon "10-mile fadeout" pioneered earlier that year by Hey Jude (apparently with no copy-catting by anybody, as Atlantis, while released later, was recorded months earlier than the Beatles' mega-hit). Meanwhile, he enjoyed the company of the sort of friends you acquire only when they respect your talent, including, perhaps surprisingly, much harder rockers like Jeff Beck and Ron Wood, who appeared on some of his records. Donovan was also known to hang out with the Fab Four, and crossed paths with the Beatles repeatedly throughout the Sixties; he's there clapping along on the famous Our World broadcast of All You Need is Love, and he was with them during their sojourn to Rishikesh in India, there to seek cosmic truth from the Maharishi Mahesh Yogi, who ultimately failed to impress (when the spiritual leader asked Lennon why they were leaving the ashram, John, being John, responded "If you're so fucking cosmic, you tell me"). It was because of Donovan that the Rishikesh interlude wasn't a total bust, as he taught both John and Paul his "finger plucking" style of guitar playing, soon used to great effect on the subsequent White Album, in John's Dear Prudence and Julia, and McCartney's Blackbird and Mother Nature's Son. It's thus fair to say that some of the Beatles' most sublime songs might never have been composed without him.
By the end of the Sixties, the flower-powered hippies with whom Donovan was inextricably associated began to go out of style, and he faded from public view, though he continued to play and record for decades after, well into the 2000s.
In retrospect even his early songs, like today's selection, sound only superficially like Dylan, being far more pop-oriented, and imbued with a sort of Celtic romanticism and wide-eyed innocence that Bobby D. would never have communicated, even if he could have. It's quite impossible to imagine a song like Jennifer Juniper showing up on, say, Blonde on Blonde. Dylan wasn't about to write fanciful songs about mythical places, or the trippy joys of smoking banana peels, either. Yet characterizing Donovan as a comparative lightweight doesn't seem quite fair, even if it's objectively true, simply because his songs are so, well, pleasant, listenable, melodic, and sometimes playfully tongue-in-cheek. There are sad moments when that's just what the doctor ordered, yes?
Catch the Wind is beautifully produced and recorded, featuring lovely guitar technique, and harmony from what sounds like a section of echoing mandolins playing from somewhere off in the distance (one wonders if they were recorded from outside the studio and down the hall, which is how McCartney produced the same effect for the far-away booming drums in Mother Nature's Son – another trick he passed on in India, perhaps?). I've always found it irresistibly sweet and comforting, even while the exquisitely trained, somewhat bullying grammarian that forever lives inside me keeps insisting, sotto voce, "to catch the wind, lad, to catch, not and !" My better angels are prepared to grant the artist a little expressive leeway, especially when the minor transgression is committed in service of such a warm, wistful little gem.
Song of the Day: The Beatles – Hey Jude (May 22, 2021)
A song that's so familiar and over-exposed that it's possible to forget how truly magnificent it is. Lennon put it succinctly in one of his last interviews in 1980: "One of Paul's masterpieces". Remember when you heard it for the first time? I was just a little kid when it was everywhere in the summer of '68, wafting out of every open window, pouring out of every transistor radio, while it held down the Billboard #1 for nine straight weeks, its poignant melody an old friend almost from the outset, the rousing "ten mile fadeout" on everybody's lips. The attached video captures that initial rush of delighted discovery, as the lads debuted the tune to the world, and turned the David Frost show into a virtual festival of communal high spirits, surrounded by a racially diverse crowd composed of the old and young, male and female, all singing along and clapping in time, creating one of the most indelible tableaux of the Sixties. Such a pity that we old folks can never live that moment again, but younger ones can, and it's possible, via YouTube, to watch their faces when they do, and re-experience just a bit of that first feeling of astonishment and joy; it turns out there's a whole genre of videos in which listeners don the headphones and hear Hey Jude for the first time:
It's always emotional. Jude, whoever you are, thank you for inspiring this song says Joy-Jean, the second listener above, as the coda fades down to silence. There must be a back story to this.
Of course there is, and every Beatles fan knows it – when she said that I rushed immediately to the comments section to make sure that somebody had filled her in – and it's emblematic of that particularly magic moment in songwriting history when McCartney was at his unassailable peak, and spun out such music continually and spontaneously, off the top of his head, and sometimes even in his dreams. Its beautiful message occurred to Paul in a moment of compassion, as he was driving his Aston Martin to Kenwood, Lennon's massive house in tony Weybridge, where he'd been thousands of times back when he and John were writing things "one on one, eyeball to eyeball", as John once put it. This time, though, John wasn't there. He'd taken off with Yoko Ono, utterly in the thrall of the odd and unconventional avant-garde artiste, leaving wife Cynthia and son Julian high and dry, and Paul, who was especially fond of the child, reckoned that he'd best go over and see how they were holding up, and offer what moral support he could. Still smarting from his own falling out with the exquisite Jane Asher (his own damned fault, regrettably), he was at that point especially sensitive to the sadness and anxiety of break-ups, and he wanted them to know that John might abandon them, but he wasn't going to. Typically, he began to think of a way to raise Julian's spirits, and by the time he was there the song was almost fully formed. "Hey Jules," he sang to himself as he drove, "take a sad song and make it better". Easier said than done, but Cynthia was moved, saying later "I was touched by his obvious concern for our welfare … On the journey down he composed 'Hey Jude' in the car. I will never forget Paul's gesture of care and concern in coming to see us."
Just a couple of weeks ago, Julian told an interviewer at the Sunday Times that he still gets goosebumps whenever he hears the song that the man he still calls "Uncle Paul" wrote while travelling to console a sad little boy.
Ever the diplomat, Paul changed the title to Hey Jude before presenting it to John, who loved it – from his comments over the years, it's evident that this was his favourite among Paul's compositions – and, being John, figured it was about him, and his love affair with Yoko, exclaiming Ah, it's me! McCartney wasn't about to tell him that no, it's about the dear child you left all alone like a cad and a bounder, and replied that actually it was about his own situation, to which John responded "check, we're going through the same bit". One assumes he found out eventually, but if so it never soured him on the song, of which he spoke fondly even at the height of their acrimony in the immediate aftermath of the band's dissolution. He was particularly taken with the lyrics, about which Paul was unusually (and to John unaccountably) bashful, apologizing for the line "the movement you need is on your shoulder", describing it as a place-holder until he could change it to something better. "It's stupid" said Paul. "It sounds like a parrot". Lennon wouldn't hear of it: "You won't, you know. It's the best line!" When he performs it these days, you can sometimes see a certain emotion flicker across Paul's face when he sings the lyric that his partner made him keep.
The four minute coda is structured around the plagal cadences (or in this case, more accurately, double plagal progressions) that Paul always favoured – a musical device also known as the "dying fall", or "Amen", once almost unheard of in rock and roll, being a feature of medieval music and the Anglican hymns Paul absorbed as a choirboy*. It wasn't supposed to stretch on for four minutes, but in the studio they got into such a groove that they just kept going, almost mesmerized by its mantra-like quality. Getting into the spirit of things, Paul damn near shredded his larynx, improvising throughout, thus capping off one of pop music's most extraordinary vocal performances, and completing the emotional journey from the sweet and soothing sentiments of the beginning to the ecstatic self-affirmation of the joyous conclusion. It's a hoot, when watching the attached videos, to see everybody's eyes widen at Paul's James Brown/Little Richard-inspired howling. His range, from start to finish, is amazing. Beneath the vocal, powerful heft is added layer by layer by a 36 piece orchestra, the members of which were paid extra to also record an overdub of all of them clapping and singing (incredible though it seems from this vantage point, one grumpy player refused, declaring that any such thing was beneath him).
At the end of the recording session, George Martin opined that it was all well and good, but AM radio DJs, accustomed to two and three minute tracks, would never play a seven minute song. "They will if it's us" replied John.
Arrogant, and right. It topped the charts everywhere. Australia, Japan, Belgium, Sweden, the Philippines, Germany, everywhere. For a few weeks of that high summer of 1968, the whole world was singing in unison, and boy, did we need to. 1968 was a horrible year, full of calamities, wars, assassinations, and massive civil unrest, as if everything was on the cusp of falling apart, from the burning jungles of Vietnam to the Soviet-repressed streets of Prague, and seemingly all points in between. It seemed only the Beatles could soothe us. Only they could lift our spirits and draw us into the global chorus, millions chanting na na na na, Hey Jude, and for just a little while doing like the song said, making it better.
You can't help but sing along. It's simply irresistible – trust me, I've been swept up in it myself, and I'm nobody's idea of a joiner. It was when I was part of a crowd that numbered in the tens of thousands, made as always of the old and young, black and white, male and female, while Paul performed Hey Jude to what looked to be the entire city of Halifax, an ocean of people packing the vast Commons and flowing up the sides of Citadel Hill and on to all of the balconies of the surrounding apartment buildings, maybe 60,000 of us, maybe more, all singing together and experiencing a blissful catharsis that I'll never forget. Everyone was on their feet. Everyone was belting it out. The guy next to me had tears streaming down his cheeks, and so did lots of other folks, all of us genuinely grateful for the opportunity to be there and live in that moment. I choked up too, a little bit.
O.K., a lot-a-bit.
A couple of years ago, Stephen Colbert was interviewing BTS, the hugely popular K-Pop boy band, and asked them if they knew any songs by the Beatles, the only other group to have scored three #1 albums in a single year. Maybe he thought they were too young, or that nobody in a place like South Korea would know anything about the Beatles these days, especially not the young hot shots who were now top of the pops. Well…
*Yesterday, She's Leaving Home, Let it Be, and many others conclude with plagal cadences.
Song of the Day: The Talking Heads – Once in a Lifetime (June 7, 2021)
When I first saw this video, I'd never heard of the Talking Heads. Had no idea who they were. There I was, in my first year of university, hooked on the music of the sixties and wondering whether the popular airwaves would ever again crackle with anything meaningful and moving, and suddenly there he was, David Byrne, flop-sweating and apparently overwhelmed by dread, looking terrified by both the present and future, and suffering the repeated existential body blows of life's dreary realities and crushing expectations, standing there being rocked back on his heels as if struck by the random bullets of life's eternal drive-by. He seemed to have crawled right inside the heads of me and most everybody in my mixed-up, anxious cohort: You may ask yourself, how do I work this? How did I get here?
The music was extraordinary, spare, stripped down, almost primal, with rhythms straight out of Africa, sounding agitated, disoriented, and evocative of someone inching ever closer to the breaking point. This wasn't Culture Club, and it sure as hell wasn't Bananarama. It was scarcely pop music at all, not as we'd grown accustomed to it in that strange period of transition at the end of the Seventies; Remain in Light, the epochal album on which Once in a Lifetime was centrepiece, was released in1980, the same year that Captain and Tennille, Olivia Newton John, and Air Supply were still charting hits. One of the biggest songs that year was Rupert Holmes with his insipid Pina Colada Song. Lipps Inc. had a huge success with Funkytown. Gary Newman was flogging the vapid techno-pop of Cars. Emerging out of the miasma that hung over all of that slickly-produced musical processed cheese food, Once in a Lifetime cut like a knife. It was out of time and seemingly out of nowhere, and it was saying something unsettling about the way we lived our lives.
Letting the days go by. It was both lament and warning, and boy, what a piece of performance art. I guess you could argue that being in a position to indulge in the luxury of second-guessing your life choices falls under the category of "First World Problems", but Once in a Lifetime is more total nervous breakdown than mere bourgeois existential angst. This guy is flipping out. I think maybe we all flirt with this sort of mental collapse at some point, wondering what in God's name we've done, whether we're right or wrong, and continually seeking, whether we know it or not, escape into the cool, silent, psychic solace of a quiet space within ourselves, referred to here as the water underground. Into the blue again we go, into the silent water.
Same as it ever was.
Song of the Day: The Beatles – Yesterday (June 9, 2021)
[I promised one of my handful of regular readers a new song of the day by day's end, so it was necessary to pull something from the list that I could write about off the top of my head, no extra thought necessary. I'll get back to the less obvious tracks in due course. Meanwhile, Laurie, hope this does the trick.]

In a recent post in praise of Hey Jude, I noted that it was one of those songs that had grown so familiar over the years that it was possible to lose sight of how great it really was. Well, that goes double for today's selection, reputed to be the most covered song ever written, which boasts a melody so perfect, so graceful – I've read musicological analyses in which it's suggested that it might be the greatest melody in the history of popular song, and maybe music in general – that it's sad, really, the extent to which we've grown used to it. It's practically woven into our collective DNA, as if we're all born already able to sing it, and I'm convinced that people will indeed be singing it centuries from now, perhaps without remembering any longer who wrote it. It'll just be part of our cultural inheritance, like a Happy Birthday or Three Blind Mice, albeit infinitely more sublime.
Like a lot of the Beatles' compositions, it comes packaged with a backstory that sounds apocryphal, but is actually true. I suppose most everybody knows it, the tale of how McCartney composed this most formally elegant of songs while he was sleeping. That really happened. He literally dreamed it. In the morning he rolled out of bed, and was able to play it from memory, as of he'd always known it. There were no lyrics, yet; Paul gave it the interim title "Scrambled Eggs", which fit the meter and would do until he could come up with something better, unless, as he was fully prepared to accept, the tune already had lyrics because he hadn't really written it at all. Not that the boy lacked ego, but c'mon – in his sleep? He composed a song like this one while he was unconscious? Probably not, right? Probably, Paul reckoned, he'd heard it somewhere, forgotten, and was now simply disgorging another composer's work from his subconscious. Worrying about that, he hesitated to make a recording, and asked everybody he knew if they'd already heard his purportedly new song somewhere else. This went on for some months, until George Martin, who knew his pop music history, and also had access to EMI's vast record library, assured McCartney that it wasn't so. It was definitely original. Unlikely as it seemed, Paul really had written it while stacking Zs.
Martin likely knew this to be true from the moment Paul played it for him. First, the song's structure was deceptively but entirely unconventional, based on segments of seven bars – about as common in popular song, as author Jonathan Gould once remarked, as a 17 hole golf course – and who but McCartney, unconstrained by the strictures of formal musical training, could have come up with that? Second, there was no way a melody that gorgeous could have remained obscure. If somebody else had written it long ago, it would certainly already be famous. No, it was Paul's all right.
Finally, it seemed safe to go ahead and commit it to master tape, claiming authorship. Against McCartney's instincts, Martin wanted to score the basic track for an overdub of string quartet, which he was sure would enhance the song's natural pathos while adding a certain gravitas. This didn't go over well at first. What did he say? Strings? Ugh. Paul was more than dubious. The Beatles were a rock 'n roll combo, for the love of God, not a chamber ensemble. He didn't want, indeed could barely imagine, any of that "Montovani nonsense" polluting the next album. But the trusted producer prevailed, and upon hearing the score Paul agreed; it was perfect. The final recording would, then, feature only Paul and his acoustic, backed by the string quartet. No drums, no bass, no electric guitars. There was some anxiety in recording it that way, since it would be the first Beatles track in which only one of the Beatles was playing, practically a solo effort. Would the others be OK with that? Would it go over well with the fans?

As it happened, yes and yes.
As with so many Beatles songs, it's impossible to recapture the feeling of listening to it for the first time, and almost as hard to grasp how revolutionary it sounded to those who first heard it in 1965. At that point Beatlemania was still in full swing, with the narrative still focussed on the haircuts, the screaming, and the unprecedented mass popularity, none of which seemed to have much to do with the presumably disposable songs they were playing. While there were a number of serious composers, both popular and classical, who already understood that something special was happening with the Fab Four – among them, of course, other members of the new generation like Bob Dylan, Brian Wilson and Pete Townshend, but also established maestros like Richard Rodgers, Leonard Bernstein, and Aaron Copland – any suggestion that the Beatles were not just record company product, not just a fad, not merely the latest ephemeral boy band, but the vanguard of a musical revolution in which Lennon and McCartney would soon establish themselves as perhaps the greatest songwriters of the modern era, would have been greeted with unaffected scorn. Yeah, sure they would. Pull the other one. It was a crazy idea!
Until it wasn't.
Then came the epiphany. Suddenly, with the release of Yesterday, it was as obvious to the entertainment press as it was to the guy sitting next to you on the cross-town bus, even though for many it seemed only a little more likely than the Yankees starting an ostrich in centre field. The cherubic mop-top with the funny Liverpool accent and teeny-bopper fan club was, manifestly, a goddamned genius.
So this marks the point where everything changed, and the popular perception of the Beatles shifted away from the haircuts, Beatle Boots, Pierre Cardin suits, and general mass hysteria, and everybody started listening to the songs, really listening, with increasing joy and wonder. Watch this performance, and try to cast your mind back to a time when this was utterly new, revelatory, and startling in its unexpected beauty. "For Paul McCartney of Liverpool, opportunity knocks!" says George in his introduction, alluding to a popular talent show that was the American Idol of its day. Then, all alone on stage, Paul transcends the moment and gives them one for the ages, all of 23 years old and already building his immortal legacy.
Song of the Day: Ry Cooder – Get Rhythm (June 11, 2021)
I just adore this great old video, which unfortunately seems to be available only in this low resolution VHS transfer (with frigging sub-titles!), featuring Harry Dean Stanton as the manager of a run-down cantina with no patrons, and none likely to show up, until the music starts pulling them in.
Ry Cooder is one of the greatest blues guitarists ever to play slide, and has been a legendary session man for years, playing for everybody who's anybody at one point or another – Wikipedia lists Captain Beefheart, The Rolling Stones, Van Morrison, Little Feat, Neil Young, Randy Newman, the Everly Brothers, David Lindley, The Chieftains, The Doobie Brothers, and even Eric Clapton – and that's hardly exhaustive. I read somewhere that he was considered for a permanent slot in the Stones, after the tragic departure of Brian Jones, and one wonders how the trajectory of that outfit might have been different if that had worked out. The story goes that Cooder pissed of Keith Richards by noting that the guitar riff for Honkey Tonk Women had been ripped off from an old blues song (more than plausible), and that was that. You can get an idea of what the Stones sounded like with Ry doing his magic from Sister Morphine, a track off Sticky Fingers, to which Cooder lends his amazing slide work.
Get Rhythm was written by Johnny Cash, appearing first as the B Side to I Walk the Line, way back in 1956. Cooder's version was released in 1988. It showcases his impeccable technique, and bounces along with enough energy to pull even the denizens of the moribund Club El Mundo Elegante out of their collective funk.
Song of the Day: The Tremeloes – Here Comes My Baby (June 13, 2021)
Remember Cat Stevens? He was the oh-so-sensitive prototypical singer-songwriter who made a splash in the early seventies with albums that sported preposterous names like Tea for the Tillerman, Catch Bull at Four, Teaser and the Firecat, and Buddha and the Chocolate Box, before giving up his musical career, rebranding himself as Yusuf Islam, and endorsing with evident enthusiasm the death fatwa issued by the Ayatollah Khomeini against Salman Rushdie. I had all his records back when I was twelve or so. Nowadays it's easy to think of the guy as being generally full of old rope, and a lot of his stuff was, in hindsight, a little cutesy, especially twee little numbers like, say, Moonshadow, which included the lyric If I ever lose my mouth/All my teeth, North and South, and seemed to be about equanimity in the face of losing most of your body parts, or everybody's favourite, Morning Has Broken, which was a little bit over the line that separates sweet from syrupy. But you know, the boy had his moments, and wrote a few classics – remember Wild World? Or how about The Wind, a really gentle, lovely, and rather spiritual piece that I still count among my favourites:
Ditto How Can I Tell You:
He's probably still dining out on the royalties from First Cut is the Deepest, which was covered by everybody from Linda Ronstadt to Rod Stewart, 68 versions in all; the one I remember was recorded in 1973 by a guy named Keith Hampshire, who took it to number 1 in Canada and got so much airplay with it that I probably heard it 2,000 times.
Anyway, it was, believe it or not, Cat Stevens who penned the charming, irrepressible Here Comes My Baby, way back in 1967, which was made popular by the Tremeloes with the wonderful cover attached above. This is distilled essence of sunshiny upbeat – I maintain that nobody can give it a spin and stay grumpy. It's also a perfect artifact of the Sixties, when tunes this clever and enjoyable were so thick on the ground they seemed ordinary. Makes you wonder how Cat later became so pensive and angsty, but I guess he was one of those, you know, complicated guys who thinks too much about things that make you sad. I'm a bit that way myself, which maybe is why I'm inclined to cut him some slack for a lot of his subsequent missteps, besides which, in my book, anybody who can write something like Here Comes My Baby has earned himself a few bloopers. Now the fatwa business, that's something else…
Oh well. Maybe Yusuf was just goofin' around. How could anybody really mean such a thing who also wrote the perfect soundtrack to this indelible scene from the director's cut of Cameron Crowe's Almost Famous?

Song of the Day: Neil Young – Wonderin' (June 15, 2021)
There are many sides to Neil Young, whose work has thus far received none of the attention it deserves here at Songs of the Day. He could rock out with the best of them – if you want to know where Grunge came from, have a listen to Cinnamom Girl – or render you wistfully, weepily nostalgic with something like Birds or Sugar Mountain. There aren't a lot of songwriters out there with the range to veer from Rockin' in the Free World to Harvest Moon to Unknown Legend, all of which should one day make their appearance in this space, not to mention more obvious but equally worthy classics like Heart of Gold. Today, though, I was feeling a little whimsical, so here's the wonderfully charming, delightfully out-of-left-field Wonderin', a mixture of pathos and self-deprecating humour cast in the form of a jukebox number last heard in one of those chrome and linoleum roadside diners back before Elvis got drafted.
It's hard to say why, exactly, this almost mournful doo-wop, filmed, apparently, on a 1958 Bell & Howell Model One Nine, is so affecting. There's something about Neil's portrayal of this affable, confused little sad sack, standing there with his tentative smile and scratching his head as he waits passively between singing his lines, that tugs at the heart strings, while the vocalists of the Shocking Pinks, singing backup from the rear seat of a big old Caddy, are straight out of American Graffiti , and thus provide just the right touch.
He's just wondering if she's ever coming back, is all, and it pains us out here in Videoland to realize that no, she never is.
Post-script: my brother reminds me that Wonderin was originally recorded many years earlier, and sounding more Honky-tonk than Doo Wop, for After the Gold Rush:
Song of the Day: The Mutton Birds – Anchor Me (June 17, 2021)
https://www.nzonscreen.com/title/anchor-me-2005
Not a lot to interpret here. Just a very pretty love song from this New Zealand band, written, it's nice to know, by lead singer Don McGlashan for his wife. With a nautical theme, to please us Maritimers:
As the compass turns
And the glass it falls
Where the storm clouds roll
And the gulls they call
Anchor me
The video is an unusually faithful cover version created by an all star group of New Zealand artists as a fundraiser to commemorate the 20th anniversary of the destruction of the Rainbow Warrior, the famous Greenpeace protest flagship, in Aukland harbour in 1985. The ship was slated to interrupt a nuclear weapons test that France was planning to conduct at one of its Pacific colonial possessions, the atoll of Moruroa in French Polynesia. At the time, France was still obstinately conducting above-ground atmospheric tests, which the Americans, British and Russians had agreed to abandon under the Limited Nuclear Test Ban treaty of 1963, owing to their extremely nasty ecological effects – hence the Greenpeace protest. The prospect of these impertinent whale-coddling tree huggers getting in the way of their serious national security business angered French policymakers to the point that they sent their intelligence operatives to blow a hole in the Rainbow Warrior's hull, in an operation code-named, appropriately enough, Satanique. There is much to debate when considering the merits of nuclear weapons policy and the need for an independent French deterrent force, but the attack on the Greenpeace vessel, which resulted in the death of photographer Fernando Pereira, was state-sponsored terrorism, pure and simple, for which far too few of its perpetrators ever saw the inside of a prison cell; two of the operatives who did the deed were apprehended and served a little time, but of course the architects in the policy community protected themselves with the usual cover-up, and while Defence minister Charles Hernu was eventually forced to fall on his sword, President Francois Mitterrand, who personally authorized the mission, eluded all justice.
France did eventually pay reparations both to Greenpeace and the family of Pereira, and in 2015 Jean-Luc Kister, the French secret service agent who led the mission, publicly apologized to Periera's family on New Zealand station NZTV, asserting, as so many have before him, that he was just following orders.
Song of the Day: Del Shannon – Runaway (June 18, 2021)
Proof that there was life before the Beatles. It wasn't all How Much is That Doggie in the Window, and Tammy's in Love. Of course it wasn't. There were the Everlys, and Buddy Holly, and Phil Spector's wall of sound, with all that great stuff coming out of the Brill Building. Who doesn't groove to the timeless instrumental Green Onions, by Booker T. and the MGs? Del Shannon's absolutely bitchin' Runaway is very much of a piece with all of those, rugged, simple, maybe a little primitive, but man, what a tune. That organ work! The wild falsetto vocals! Those deeply satisfying chord shifts! The sheer melodramatic teen angst! I don't know anybody who doesn't like Runaway, and I don't want to know anybody who doesn't, either. Heck, it's even on Rolling Stone's list of the 500 greatest songs ever, number 472, but it's there (and truth be told I've always thought their selections were pretty good, but their rankings were full of shit – guarantee you that at least 300 songs are above it on that list that ought to be below it).

OK, sure, it's not A Day In the Life, but it's a pure pop delight, a masterpiece of its kind, and deserves to live forever. Here at Songs of the Day we aim to do our part.
Song of the Day: New Order – Regret (June 20, 2021)
What's this now? Techno-pop? Dance music? Stuff that goes thump-thump-thmpity-thump? Is Graeme cracked? Has Songs of the Day begun its inevitable swirl 'round the bowl?

Yup. And no, not at all!
Listen, here at SOTD, we harbour no ingrained prejudice against anything just because it gets your toes a-tappin'. Sometimes your toes need to be a-tappin', right? And New Order wasn't the Pet Shop Boys or Human League. Not even close. They might have been playing more or less the same game as Frankie Goes to Hollywood, but not in the same league. Those other guys were kicking around the sandlots of double-A ball; New Order, man, they were stroking them over the fences in The Show. Their stuff was always a cut above, clever, catchy, technologically glossy without being purely mechanical, and always almost ludicrously danceable, if, yes, sometimes to the point of being downright hypnotic. That can be fun too, you know, done just right. Put a stiff drink in your hand, slap something like Temptation on the platter, and drift off into theta brainwave trance mode. Oh, you've got green eyes, oh you've got blue eyes, oh you've got grey eyes….
New Order was at peak popularity in the 80s and a staple of that decade's dance club scene, but it was in the early 90s, with Regret, off the album Republic, that they really hit their peak. The emphasis shifted a bit away from the synthesizers in favour of relatively conventional electric guitars, and the bass groove is as usual utterly, compulsively rhythmic, yet now also forms the track's contrapuntal harmonic backbone. Overall the approach sounds fresh and new, even – dare I say it – more mature, almost to the point of breaking away from techie synth-pop toward something more broadly appealing, while no less suitable for the venues in which New Order made their ducats. There's even something a little reflective, a little wistful about it, as the narrator reproaches himself for being moody, dissolute, and slow to catch on to what's really important. It's called Regret, after all.
Just wait till tomorrow
I guess that's what they all say
Just before they fall apart
Song of the Day: James Taylor – Millworker (June 21, 2021)
There's a continuing theme in American life, which resurfaces every election cycle: the nostalgia for a long-vanished industrial economy that employed millions upon millions of workers to build ordinary things that ordinary people needed, propelling vast numbers of equally ordinary, relatively uneducated white folk into secure middle class lives full of detached homes, shiny new cars, and all the modern conveniences. Time was, you could spend your entire working life ensconced in a union job at GM, or US Steel, and retire on a pension.
Now most of those factory jobs are gone, and while American manufacturing output has actually risen to historic heights in recent years (a plain statistical fact that surprises just about everybody), the thing is that the modern means of production no longer require human workers to torque wrenches and wield spot-welders. Up and down the production line, one finds a tireless army of infallible, uncomplaining robots where unionized everymen in overalls used to stand. Meanwhile, the comfortable middle class existence of the blue collar working stiff recedes farther and farther into the inevitably mythologized past. It's understandable, I guess. There's always great anxiety and dislocation involved in wide scale economic disruption, and it's easy to feel sympathetic to those who now sense the rug pulled out from under their feet – even the ones that scream the racist taunts and totalitarian slogans that pass for discourse at The GOP's horrifying political rallies. The longing to return to a lost golden age; the anger of those who face an uncertain future in which their kids won't do as well as they did; the greed of the corporations that shipped overseas whatever domestic jobs they weren't handing to robots; all get woven together into a compelling narrative of the betrayal of the noble American working class.
Yup, it gets you right in the pumper. But hold up there, sport. Before we get all wistful and dewy-eyed about the evaporating factory jobs of days gone by, we'd all do well to give a listen to James Taylor's quiet masterpiece Millworker, first written for a Broadway musical based on the writings of Studs Terkel. In what I sometimes think is his best work, better even than Fire and Rain, Taylor offers up a clear-eyed and altogether different perspective on the good old days of massed labour tending to the rote assembly of mundane consumer goods. It wasn't all well-paying union jobs dropping big-block V-8s into shiny four-ton land yachts. A lot of it involved unskilled labour for slave wages, none more notoriously than in the old textile mills, where young men and women were mere factors of production, engaged all day in mindless, repetitive work that had them aging in dog years. That's the world Taylor remembers here, and he paints a Hell-scape of squandered potential and lost hope, within which the line worker could only daydream of a better place, maybe dwell for a moment in a fantasy while forcing herself to live through another long and tedious day.
Yes, herself. Remarkably, Millworker is written from the perspective of a woman, and its opening lyrics pull us into a story that would once have been as dirt-common as it is disheartening. In just a few lines of spare poetry, the stage is set:
Now my grandfather was a sailor,
he blew in off the water.
My father was a farmer
and I, his only daughter
took up with a no good
millworking man from Massachusetts
who dies from too much whiskey
and leaves me these three faces to feed.
Kinda gets right to the point, doesn't it?
So what does a single mom with no particular job skills do to make ends meet, and feed those hungry faces? She takes a job down at the textile mill. Likely the same mill where her useless, dissolute husband spent his hours of drudgery, in between the bouts of drinking that drove him to an early and probably more or less welcome poor man's grave. Millwork isn't easy, she tells us. It isn't hard either, not really. It's just an awful, boring job. She tells us about gritting it out all morning just to get to break time, when she can have a sandwich, sit quietly for a few permitted moments, and take refuge in her childhood memories, from the days back on her father's farm. She remembers Grand-dad's heroic stories of the merchant marine, and the sailors who put it all on the line, and sometimes lost their lives. It sounds arduous, but heroic, maybe even noble, especially compared with how she whiles away her endless, meaningless hours. Yes but it's my life has been wasted, she thinks, and I have been a fool / to let this manufacturer use my body for a tool. A window into a life that folks like me will never know:
And it be me and my machine
for the rest of the morning
and the rest of the afternoon, gone
for the rest of my life.
These days it's somebody else's job to slave away in the sweatshop, cranking out paper cups, plastic forks, socks, undershirts, and other, glossier stuff too, like our beloved flatscreens and iPhones, all of it pouring off the production lines of places in Asia, including some where child labour is still normal, and others where all but imprisoned workers throw themselves out of dormitory windows rather than get up and do it all again. That used to be us, or near enough anyway, and there are still large segments of our own economy, the parts that can't yet be fully automated or shipped overseas, which remain far too similar to that old world of pitiless capitalist exploitation. Just ask the folk toiling away in the meat-packing plants, or Amazon "fulfillment centres". Christ. It sounds like a bitterly ironic taunt, doesn't it? Fulfillment centres. Be glad you pull down a sub-living wage, pal, and mind that your bathroom break doesn't take too long, or we'll figure out how to replace you with something that never needs one.
It's damned near enough to turn you into a Marxist.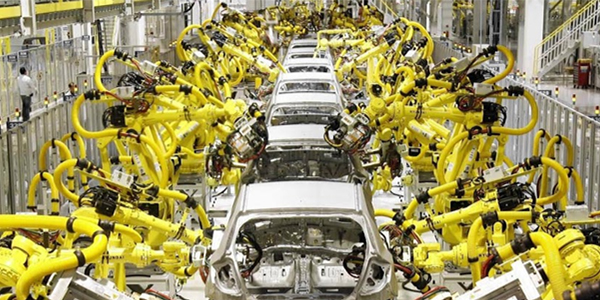 Song of the Day: Arlo Guthrie – City of New Orleans (June 28, 2021)
Why should a passenger train chugging across the countryside be something poignant and romantic, rather than merely a rather slow, if highly efficient, way of travelling long distances? Is it nostalgia for a simpler time? Maybe those of us used to being crammed into narrow airline seats with nothing to look at but the slob across the aisle, or perhaps the dreary cloud deck below, supposing we're lucky enough to be next to the window, think wistfully of sitting in roomy comfort while the scenery rolls by, passing through picturesque small towns and along the leafy green edges of seemingly endless farmer's fields?

And why is the blaring horn of a distant train in the dead of night the loneliest sound you'll ever hear, yet still somehow comforting? Do we sense the solitude of those who need to be wide awake and working hard while everybody else lies tucked into bed? Is there solace in hearing the distant sound of steel wheels clicking down the rails, and realizing in that moment that you're not really all alone in the dark? Maybe you've felt something similar if you've ever been up in the wee hours in a quiet place, and noticed a high-flying jet blinking away overhead, leaving long silvery contrails reflecting in the moonlight – that eerie sense of connection, almost telepathic, shared with the people up there you imagine to be looking back down at that same moment, and thinking themselves about who might be watching from far below. It's an oddly indefinable state of mind, a little sad, a little hopeful, sometimes peaceful, sometimes almost resigned and philosophical. Sometimes it feels like all is right with the world. Sometimes it just is what it is, and nothing to be done.

I'm taken to that sort of place whenever I listen to Arlo Guthrie's classic rendition of City of New Orleans. I find myself imagining something like the engineers sitting in the dim light of the instrument panel, rolling across the wide open landscape at four in the morning, sounding the warning as the next level crossing looms ahead, and wondering whether somebody out there in the distance, maybe some hard-working farmer getting up before dawn, is pausing for a moment and taking note that the train is right on time.
It's that sort of song, don't you think?
It may come as a surprise that Arlo didn't compose City of New Orleans, so much does it sound like something that Woody Guthrie's son should have written, but the credit goes to relatively unknown country performer Steve Goodman, who recorded it to little fanfare in 1970, about a year prior to Arlo making it a hit. Goodman's story is a sad one, his whole adult life blighted by an aggressive form of leukemia that killed him young at only 36, and forced him to confront his own mortality from an age at which most of us have yet to land our first real jobs. This is usually taken to explain the essentially melancholy perspective that infuses the song, which he was inspired to write while travelling by rail with his wife, Nancy, to visit her grandmother in Illinois. Some people interpret the story of the train disappearing into darkness as a metaphor for impending death, but I don't know that I'd take it that far. Actually, I'd argue that there aren't a lot of songs with their feet more firmly planted in unvarnished reality. It's not full of symbolism, and it's not about the writer. This is objective storytelling, a slice of other people's lives, and in that sense is more like folk than country music.
City of New Orleans was the name of a real train run by the Illinois Central line between Louisiana and Chicago, which made overnight round trips over what was for many years the longest daily scheduled route in the country. Goodman was aboard for what he was told was going to be one of its last trips. As night fell and his wife went off to sleep, Steve took out a notepad and simply recorded what he saw and heard, inside and outside: the guys playing cards in the club car; the conductor's sing-song announcements over the PA, then familiar to regular rail commuters everywhere, instructing passengers to "please refrain from smoking, refrain also from putting your feet on the seats, and please also refrain from making too much noise"; the sometimes lovely, sometimes depressing scenery along the way; the inevitably African-American men doing all the hardest jobs in the rail yards. As you can see in the attached video, it was practically a straightforward piece of journalism, with the real world supplying all the beauty and pathos, all the acute little details and observations, that are more typically the stuff of the best fiction ("Norman Rockwell meets John Steinbeck", as music critic Rick Moore put it in an article in American Songwriter magazine). Goodman later told an interviewer that the song pretty much wrote itself: it was an accident, it just tumbled out when I was riding the train … Nancy fell asleep, and I looked out of the window and wrote down everything I saw. The whole thing took 45 minutes, I don't want to make it out as anything more than it was. That's the way it works, sometimes, for a certain few who manage somehow to see everything as if from a perch higher than where the rest of us sit, and comprehend it in ways we never do. It just comes out all at once, fully formed, and they can't even tell you how.
He was only 22 years old.
What he saw that night in 1970 was a way of life drawing to a close – this train's got the disappearing railroad blues, goes the lyric – and along with it the careers that had seen generations of blue collar workers through good and hard times, and their parents before them, the engineers, the conductors, the legendary Pullman Porters who staffed the world famous sleeper cars supplied by the Pullman Company back when the train was the only way to go. I wonder how many modern listeners have ever heard of a Pullman Porter, who was always a black man holding down a very difficult job which nevertheless was, in a racist America, about the best a man of colour could get, part butler, part baggage handler, part waiter, part cleaner, and part fixer, which paid less than a living wage and left him to subsist on the tips he could gather from the white passengers who always referred to him as "George", no matter what his real name was. They worked 20 hour shifts and 400 hour months, and if a passenger stole the towels it came out of their wages. They were told always to smile, always to be pleasant, and were expected to be especially discreet and trustworthy, privy as they were to the most intimate details of their passengers' lives. Immaculately dressed, they carried themselves with hard-earned dignity, and eventually were viewed with a certain level of respect, at least while aboard the trains, and their peculiar status gave them the leverage to form the first all-black labour union, which had to be counted as some sort of progress, even though wages and working conditions still improved only a little. In the result, their example was crucial to the early growth of the civil rights movement, a fact little recognized today. They served on the railways from the 1860s right up until the Pullman company went out of business in 1969, and there were still a number of them working on the trains for other employers when Goodman was taking it all in and putting it to music. It was a living. For many, the only one they'd ever known.
Just like every time and place, maybe ours especially, the world that the young songwriter saw vanishing before his eyes was neither all good nor all bad, full of some traditions and attitudes ripe for the trash heap of history, and others soon to be sorely missed. What Goodman understood as his wife slept, and he scribbled down everything he could see, was that change always disrupts patterns of reliance, and is always to some degree unwelcome and sad, not the least because nobody ever knows what's coming next. It isn't hope we feel, not usually. It's anxiety.
Songs of the Day: Jimmy Webb – Galveston; Wichita Lineman (June 29, 2021)
Most people of my age will remember these songs, but only in the versions popularized by Glen Campbell, who made them famous, and undoubtedly earned Webb a great deal of money, but to my ears didn't do them the least bit of justice, with their overly pop-oriented, AM radio-friendly arrangements and upbeat tempos. There's no indication that Webb, who obviously got along very well with Campbell, ever thought the highly popular singer's treatments were a little, well, ham-fisted, but that's how I felt about them when I revisited them a few years back, remembering their haunting melodies and poignant lyrics, and wondering how they'd sound after all these years. They hadn't aged well. Nobody could fully kill such songs, no matter what he did with them, but still…What a joy, then, to find these beautifully understated, sparely-arranged takes recorded by Webb himself, which strip away all the dross and leave behind uncluttered gems that sound about as much like the familiar chart-toppers as A Hard Rain's A-Gonna Fall sounds like The Night the Lights Went Out in Georgia.
These songs are about ordinary guys, and are thus in the finest sense quintessentially American, very much in the tradition that stretches back beyond Woody Guthrie and carries on today in the work of Bruce Springsteen, whose songs are similarly concerned with the stress and pain of the common folk without whose sweat and sacrifice nothing runs, and vital systems fall apart. It's the same spirit that animates all sorts of their popular culture, and high art too, pieces like Copland's magisterial Fanfare For The Common Man, a work which was deliberately and quite pointedly premiered on the date income taxes came due during 1943, and was written to honour the millions of citizen soldiers who were then fighting fascism all over the globe. Sure, the mythology of the working class hero can sometimes veer a little ways into tiresome, rather cloying territory, and even feel sometimes like a cruel joke being played on the rubes by chortling plutocrats – no, no, you don't want to be wealthy like me, little man, for 'tis far nobler to earn an honest wage for an honest day's work! – but when it's done right, the way Webb did it, it's hard to hold with such sour perspectives. Listen to Jimmy's own words about Wichita Lineman:
I wanted it to be about an ordinary fellow…What I was really trying to say was, you can see someone working in construction or working in a field, a migrant worker or a truck driver, and you may think you know what's going on inside him, but you don't. You can't assume that just because someone's in a menial job that they don't have dreams … or extraordinary concepts going around in their head, like 'I need you more than want you; and I want you for all time.' You can't assume that a man isn't a poet. And that's really what the song is about.
The song was written specifically at Glen Campbell's request, whose only instruction was to produce something linked to a certain place, any place would do, just something that used the name of a town, like By the Time I Get to Phoenix, Webb's first hit for Campbell. Webb says that at first he didn't want to write about another town, but warmed to the idea when he remembered seeing a lone worker toiling up a telephone pole by the side of the highway, back when he was a kid in Oklahoma, and wondered whether something couldn't be done around the concept of a civic employee:
There's a place where the terrain absolutely flattens out. It's almost like you could take a [spirit] level out of your tool kit and put in on the highway, and that bubble would just sit right there on dead centre. It goes on that way for about 50 miles. In the heat of summer, with the heat rising off the road, the telephone poles gradually materialize out of this far, distant perspective and rush towards you. And then, as it happened, I suddenly looked up at one of these telephone poles and there was a man on top, talking on a telephone. He was gone very quickly, and I had another 25 miles of solitude to meditate on this apparition. It was a splendidly vivid, cinematic image that I lifted out of my deep memory while I was writing this song.
You never know where a songwriter is going to find his inspiration, do you? As Allen Morrison wrote in American Songwriter magazine:
Imagine pitching this song idea in 1968: There's this guy who works on telephone poles in the middle of Kansas. He's really devoted to his job. Rain or shine, he's committed to preventing system overloads. It's really lonely work, and he misses his girlfriend. Does this sound like a hit to you?
Maybe not when you put it that way, but yeah, it sure did to Campbell, who fell in love with it straight away, and made a recording while Webb still considered it a work in progress. His instincts were confirmed when the song proved immediately compelling to millions of record buyers. There was something about that superficially prosaic opening line: I am a lineman for the County. Right away, you knew exactly where the song was going, and Webb didn't disappoint:
I know I need a small vacation
But it don't look like rain
And if it snows
that stretch down south
won't ever stand the strain
He's just a working stiff with a job to do, but it's an important job, a skilled job, and he means to do it right. It was a sentiment that hit the sweet spot with a whole generation of folks who'd grown up believing that being just like the Wichita lineman was the only way to to take a decent pride in yourself and live with dignity.
Galveston, two versions of which are attached above*, tells a much sadder story about a young soldier who's far from home and wishes to God he wasn't, which Webb always insisted wasn't an anti-war song, not exactly; it was just about a regular kid caught up in something he didn't understand and didn't want anything more to do with, horribly frightened and hoping to live through it. Most people at the time thought it was about Viet Nam, but the lyric about facing the flashing cannons indicates the composer had a much earlier conflict in mind, maybe the Civil War, or maybe, according to some sources, the Spanish-American War, which was fought just a couple of years before the Great Hurricane of 1900 all but wiped Galveston Island off the map in what remains the most deadly natural disaster in American history, killing somewhere between 6,000 -12,000 people. If so, then the heartbreaking subtext of the song is that the soldier, if he survived, went home either to be killed young anyway, or face the devastated aftermath. As with a lot of his other songs, the sheer, straightforward plainness of the lyrics is what lends them power:
Galveston, oh Galveston
I still hear your sea waves crashing
While I watch the cannons flashing
I clean my gun
And dream of Galveston

I still see her standing by the water
Standing there looking out to sea
And is she waiting there for me?
On the beach where we used to run

Galveston, oh Galveston
I am so afraid of dying
Before I dry the tears she's crying
Before I watch your sea birds flying in the sun
At Galveston, at Galveston
I am so afraid of dying. I guess that about sums it up. I'm reminded of Lili Marlene, featured a while back in Songs of the Day, and inclined to second-guess Webb's judgment that he didn't really write an anti-war anthem.
Jimmy didn't stroke a grand slam every time he stepped up to the plate – remember [shudder] MacCarthur Park?** – but who does? Now that I've heard his own renditions of these songs, I realize I've never really given him his due, and I'm glad to have discovered from reading up a bit on his career that his peers have always held him in the highest regard. It turns out that all I needed to be set straight was to look him up in Wikipedia:
Webb was inducted into the Songwriters Hall of Fame in 1986 and the Nashville Songwriters Hall of Fame in 1990. He received the National Academy of Songwriters Lifetime Achievement Award in 1993, the Songwriters Hall of Fame Johnny Mercer Award in 2003, the ASCAP "Voice of Music" Award in 2006, and the Ivor Novello Special International Award in 2012. According to BMI, his song "By the Time I Get to Phoenix" was the third most performed song in the fifty years between 1940 and 1990.[3] Webb is the only artist ever to have received Grammy Awards for music, lyrics, and orchestration.
https://en.wikipedia.org/wiki/Jimmy_Webb
In 2020, Wichita Lineman was added to the National Recording Registry of the Library of Congress.
*The one performed on acoustic takes a little while to get going, but is well worth your time.
**I can crack wise, but it was a massive hit for two different artists in successive decades, and probably set him up for life.
Song of the Day: Howard jones – No On Is To Blame (July 2, 2021)
A song that always struck me as unusually pretty and well-constructed, with the endearingly old-fashioned touch of a distinct musical introduction, the way they used to do it, which repeats at the close to wrap it all up in a tidy bow – you know how I love a song that ends with elegance. I first heard it playing over the PA in a movie theatre, before the lights went down, and loved it immediately. It's all about unrequited love, a theme that always resonates, the germ of which was planted when Jones was in San Francisco on some sort of promotional junket with a local record company executive, and was immediately taken with how beautiful all the women seemed to be. The executive gave him the old saw about the difference between looking at the menu and getting to eat, which Jones, apparently, hadn't heard before. Thus supplied with the first line, he wrote a set of lyrics about mansions where you're not able to live, races you aren't allowed to win, summits you can see but never reach, pools in which you can't take a swim, and so on; it was as if the young pop star actually understood something about rejection, which couldn't have been the case, but he faked it pretty darned well.
The chowderheads at the record company said it'd never be a hit. Maybe a B-Side, they told him. Thirty-five years later, and it's still raking in the royalties, and people are still recording cover versions. They probably told him to stop trying to be George F'ing Gershwin and come back with something that sounded more like Duran Duran. Girls on Film, now there's a tune, they probably told him.